"Oh, did you see it? Looking at the result of this match, it was a completely useless practice (laughs). I think we can do it."
A slender man who finished the tournament in 4th place with a total of 80 of 3842 in the cold and pouring rain of early wiinter answered calmly. "If you hit the sweet spot, you can fly 280Y."
"At the Adaptive Open (sponsored by the USGA, Pinehurst N6) in July this year, I was approached by a member of the Japan Disabled Golf Association, and I was impressed by their words. Even though I refused, I chose to participate in the main tournament. I wanted to come to Japan, but I could not sympathize with the Japanese way of doing things, I am glad I came. They are very responsive to foreign players; it was fun."
His powerful shots from an unshakable axis fascinate the viewer with one arm. I feel that the fact that he has only one arm is a characteristic of his swing.
He plays quietly. Do what you can do now. The posture facing golf is not shaken. When Alex was born, his parents were exposed to radiation in the Chernobyl nuclear accident, which is thought to be the reason for the loss of his right arm. In 1999, at the age of seven. Mother Elizabeth says: "In your eyes, it may only look like you have no right hand, but when I first came to America, I had 23 disabilities and had to have surgery. I couldn't imagine having a hole in my teeth that didn't erupt properly, having that surgery, knee surgery, and being able to hold a golf club for two months in America."
I started playing golf in 2000. It was recommended by my father, Anton, who has good single handicap skills.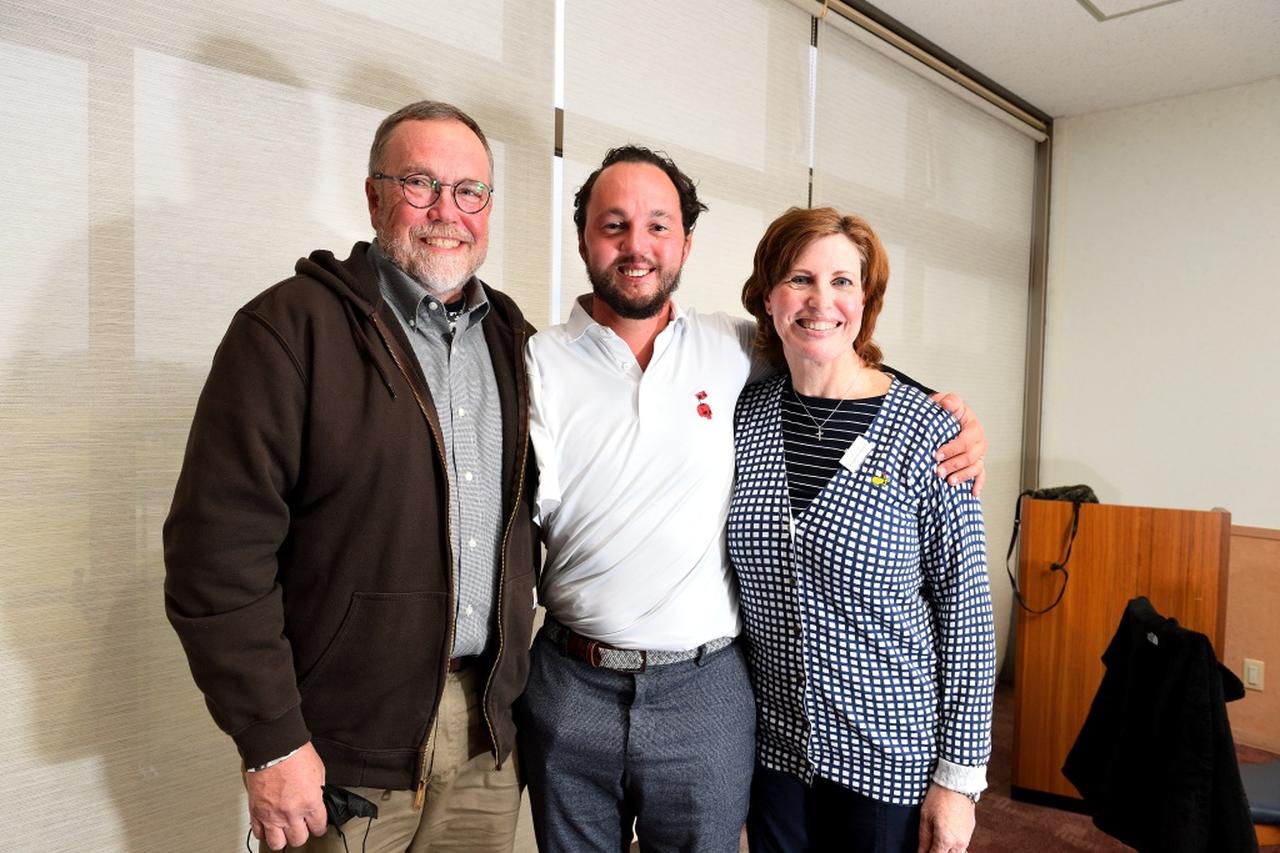 Alex's mother doesn't play golf, but his father is a proficient HC8-9. "I spend more time playing golf with my father. It's good, isn't it?" Alex rejoices.
I recommend golf because it is an individual sport. Of course, you're going to be hitting with one arm, so you have to decide whether you're going to hit the ball right or left. It all started with searching for what could be good, and I helped and taught him up to that point.
At first he played many sports. "Hunting, fishing, soccer, etc. I can play golf with my father so it was easy for me to get into it." (Alex). The most difficult part to improve was the flight distance. "At first, I was worried. Hitting with both hands is completely different. Now that I've gained strength, it might be better. My father followed me from the side, with an exquisite distance. I was trying to hard to get the ball flying, which made my short game difficult. I was hitting with all my might. It wasn't until I entered college that my skills improved." He laughed that he had gone to the golf course instead of going to class.
"But it's only one class. With the time limit, I was immersed in golf by dividing the time into different categories, such as driver time and iron time." Two years ago, I started practicing in competitions for people with disabilities. It is said that this is the sixth match. "Of course my goal is to win the game, but I want to know what my level of golf is at. I want to know that first."
Alex is a certified PGA of America Teaching Professional. The reason I got it was because of people. "The license system in the United States is different. It is more like a manager license for working at a golf course. A PGA license is a necessary background for me, and it will help with my branding. When I thought about making golf a part of my life, I thought that a PGA license would be better than other qualifications. Also, one of my future goals is to teach kids how to play golf."
This year, my heart hurts more than words can express for my homeland, which is at war with Russia. But now Alex, who does what he can, is running a charity with t-shirts he designed himself. "Since I am disabled myself, I thought I could do something for charity. It seems that there are a lot of orphans. Russians are kidnapping and forcing them to become Russian citizens. To protect those children, we are collecting donations and sending them to the orphans so that they can move to the neighboring countries such as Poland. This is the amount. I was able to help dozens and hundreds of people."
God only gives humans trials they can overcome. Alex's smile and sincere words are key to us. "He never gives up. He's a very strong son mentally. It's wonderful that he's grown up like this." (Mother) "He's s help person. Golf is his message.
Alex's hobby is fishing. He showed me a picture of him catching a big tuna. Alex in this photo is also smiling softly. When casting the rod and winding the reel, it is said that it is done with one hand while fixing it with the shoulder and chin. "I roll it back up and let the fish escape, then roll it back up again and over the course of an hour or two it comes closer and closer to me. It goes back and forth, but it feels like I'm pulling it in. I'm sure this is how I've been walkinig in life for sure."
"When I was little, I loved running around, and I also loved soccer, but the reason I chose golf is because I think I can still play it by the time I'm 90, and I can do it with anyone. When you go to a golf course, you'll be paired up with people you don't know, and after 18 holes there are many times you don't see that person again. There are no sports that men and women of all ages can do together."
An ideal game of golf where everyone, regardless of nationality, gender, age, or disability, blends into the game. Alex is the personification of that on the course. When asked what golf means to Alex, he replies, "Golf is my life."
"I am very grateful to my parents who raised me like this. Also golf. Golf has good shots and bad shots. One of my challenges is how to recover from bad shots. Speaking of which, Japanese players seem to try not to get too angry when they hit bad shots, which is wonderful. I learned the place at this time."
The sport of golf is now moving towards the Paralympic Games. "If you can do that, you will be able to represent your country. So i want to do my best to encourage people like that. Regardless of whether they able-bodied or disabled, I play golf with the mission of bringing excitement to the world of golf. I think it would be good if it leads to something like that.
When it comes to golf, Alex laughs and says he never gets tired of it. "I want to play again now. I was put to the test on a wonderful course in Japan, but unfortunately I couldn't pass the test. I just had knee surgery in July. I would like to come back and challenge myself sometime." Alex's unwavering journey of challenge continues.